About Me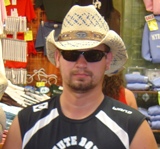 Welcome to Synaptic Domination. In this site, I hope to provoke creative thinking, active discussions, and idea sharing amongst readers. I hope you enjoy the adventures of my mind and take something away from your visit. My goal is to provide many different avenues for our community to gather and share thoughts, feelings, and ideas about many different topics. There will be various polls available to participate in and I will accept suggestions and ideas to further the content and development of this site.
Please feel free to register and login so you can comment and participate in various posts and discussions. All it takes is a valid email address to sign up. You will also be able to utilize your own Gravatar Logo which will appear by your posts to distinguish yourself. Sign up and come back on a regular basis as my goal is to have new content available on a daily basis.
Now, a little bit about me. I come from a background in Internet and Technology development. I spent about 10 years working for a telephone company with responsibilities ranging from ISP management and product development to engineering and technology investigation and implementation. Recently, I have begun a fledgling writing career and I am working through the process of getting my first book published. I am also involved in starting a company involving various products and services. I am married to a wonderful wife and we have two young adult boys. I am a Christian and as such, a very giving person. My faith and my family are my two most important priorities.
Going forward, I hope we can all share our time together to help advance our boundaries of thinking. My goal is to try and incite alternative thinking to what we see in our everyday world. I will provide viewpoints that at times, will be completely opposite of conventional thought portrayed by mainstream media and print. This site will be used to promote original thought, expand restrictions of conventional ideas, and also engage in active discussion of various topics in our daily lives.
As stated above, you are welcomed to register with the site and join in the discussions. Thank you for your time and I look forward to sharing our thoughts and ideas together.
4,323 views